Using a combination of chemicals and our custom-engineered equipment, Clean Chemistry's water treatment services deliver safe, affordable, effective, and comprehensive water treatment programs. We work with our customers to design optimized treatment programs that include a variety dosing strategies, chemistries and equipment. All work is tailored to exceed project specifications in fracturing, reuse, midstream and other oil & gas applications.
AN INNOVATIVE, COMPREHENSIVE, DATA-DRIVEN APPROACH TO WATER TREATMENT
Operational flexibility for optimized set up
Targeted oxidant technology with generally-recognized-as-safe (GRAS) residuals for a small environmental footprint
Customizable chemistry packages, optimized for your program
Detailed analytics for evaluation and cost optimization
Automation and remote control for cost optimization and top-tier service quality
Cost savings, increased efficiency
Superior safety realized through engineered controls and training for an incident free job site
The following technologies are combined to deliver a customized treatment service for your application
PeroxyMAX

TM
PeroxyMAX, Clean Chemistry's patented oxidation technology, delivers high performance water treatment. PeroxyMAX is more than just chemistry, it's a fully integrated water treatment package including feedstock chemical management and cloud connected, sensor controlled, product generation and dosing automation.
Advantages
Low corrosivity, low fuming, oxidant solution
Rapidly generates high concentrations of reactive oxygen species (ROS)
Provides high performance and selectivity for efficient microbial treatment
Creates a reliable oxidation-reduction potential (ORP) signature, for real-time treatment feedback
Generated on-site, on-demand from stable, liquid feedstocks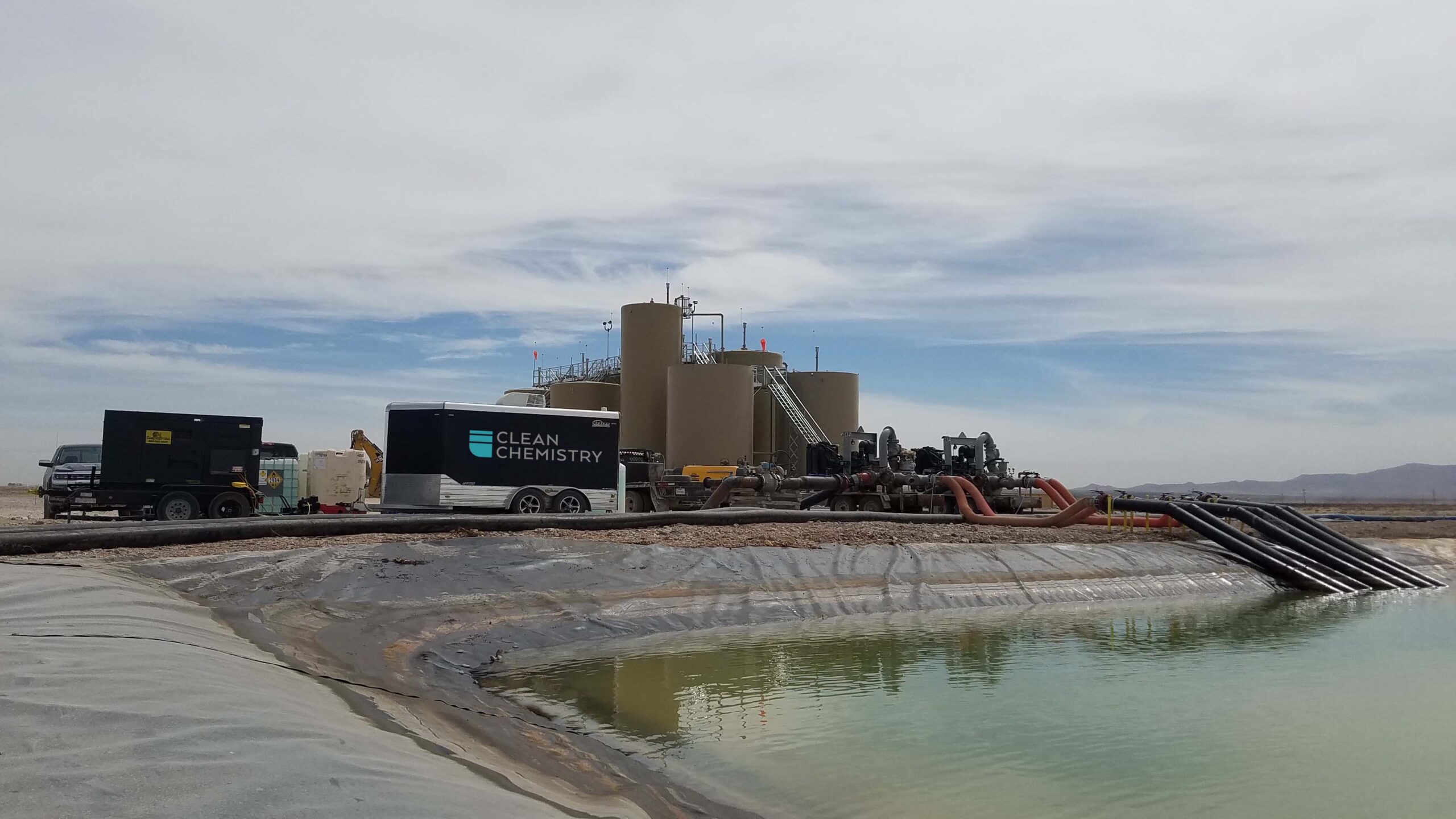 Compatibility
Compatibility is essential to effective, multi-functional, water treatment. PeroxyMAX is highly compatible with equipment and fracturing chemicals, including most scale inhibitors and friction reducers, making it both safe and effective for use in complex processes and environments.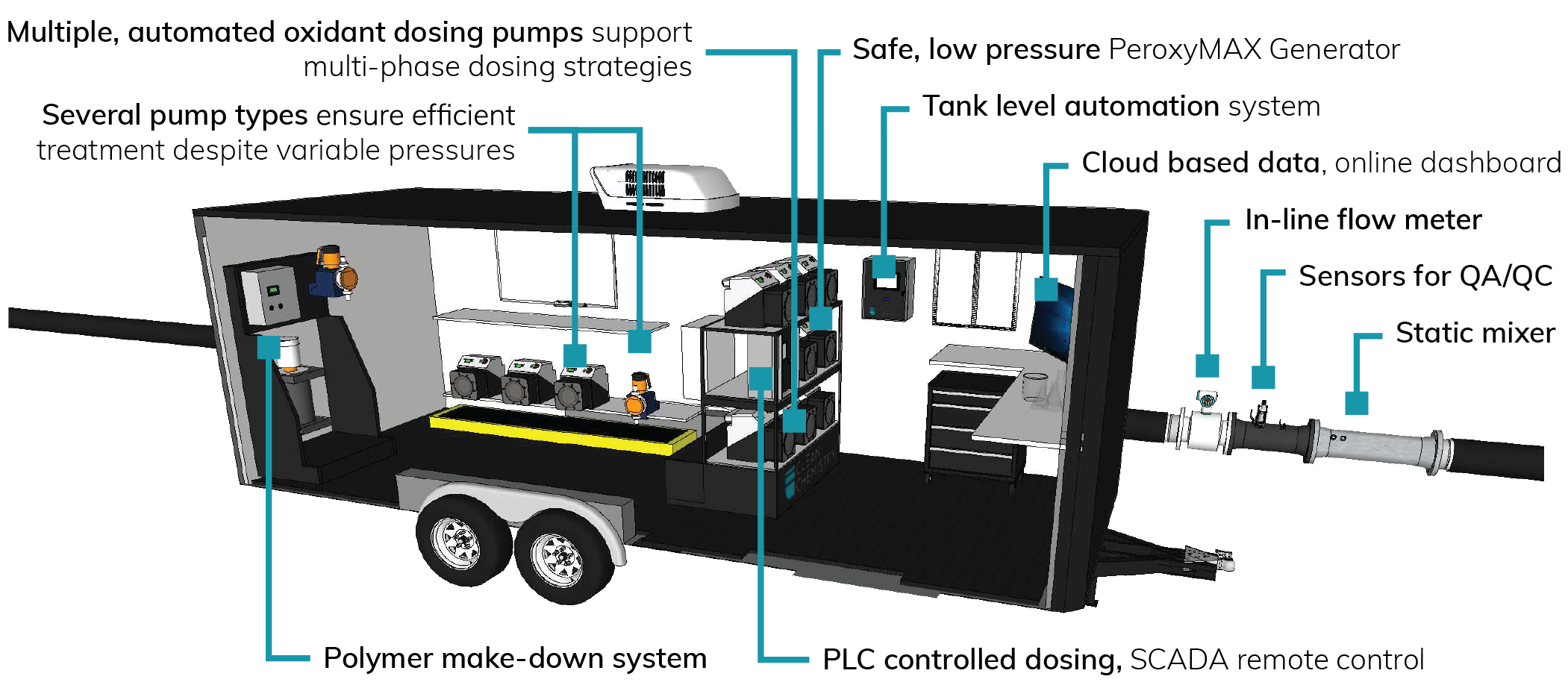 Treatment Trailer
Clean Chemistry optimizes water treatment operations through a combination of smarter technology, automation, data driven quality control and adaptable chemical dosing. The core of our treatment process is our proprietary treatment trailer, which incorporates the PeroxyMAX technology platform plus additional equipment to monitor and control the dosing of additional chemical products, such as scale inhibitors, conventional biocides and surfactants. Clean Chemistry's systems are built in-house and are configured for a variety of uses, integrated with external process sensors, and are connected to the cloud for online monitoring and remote operation, as necessary.
Advantages
For frac-on-the fly, water is treated by dosing directly into the water transfer line which allows for treatment at any point between the source pond and the well pad. A single system can treat water for multiple fracturing spreads and on multiple water transfer lines simultaneously, enhancing treatment strategy flexibility. In produced water reuse applications, the system can dose various chemicals into multiple portions of the process, handling flocculants, coagulants, and oxidation in an integrated manner. In drill-out operations, the system connects to the drill-out provider's fluid system to dose biocides and corrosion inhibitors, and is typically remotely operated by our quality assurance/quality control QA/QC team.
Can accommodate various rig-up scenarios and treatment requirements
Includes in-line flow meters and ORP sensors for automated operations
A single system is capable of treating up to 200 barrels of water per minute
Chemical Packages
Customized treatment strategies are enhanced by innovative chemistries. Our team of experienced engineers and chemists perform all testing and analyses needed to develop and implement affordable solutions. By working directly with our customers we can combine cost optimization with compatibility and unbeatable performance.
Comprehensive treatment strategy. Easily bundled with scale inhibitors, clay stabilizers, conventional biocides, surfactants, and other essential chemistries. Compatible with friction reducers.
Complementary lab work. Jar tests assess scope of work, treatment needs and relevant Key Performance Indicators (KPI). Residual checks, adenosine triphosphate (ATP) testing and bug bottle inoculation and incubation are used to confirm effectiveness.
commonly utilized chemical families
Friction Reducers
Scale Inhibitors
Conventional Biocides
Clay Stabilizers
Iron Control Agents
Surfactants
Friction Reducers
Scale Inhibitors
Conventional Biocides
Clay Stabilizers
Iron Control Agents
Surfactants
Dashboard & Data
Every Clean Chemistry treatment package comes equipped with real-time monitoring, automatic treatment dose adjustment and cloud-connected quality control. Data is collected and analyzed through an ecosystem of in-line sensors and digital analytics.
Data Package
Includes in-line ORP sensors and on-site testing, before, during and after treatment
Sensors enable data driven results, backed by the power of the cloud, for real-time quality control
On-site testing and data collection are used to identify and implement simple, responsive treatment adjustments which help meet spec
Proprietary online customer dashboard offers 24/7 QA/QC monitoring and access to historical data
Automated, daily reports are delivered via email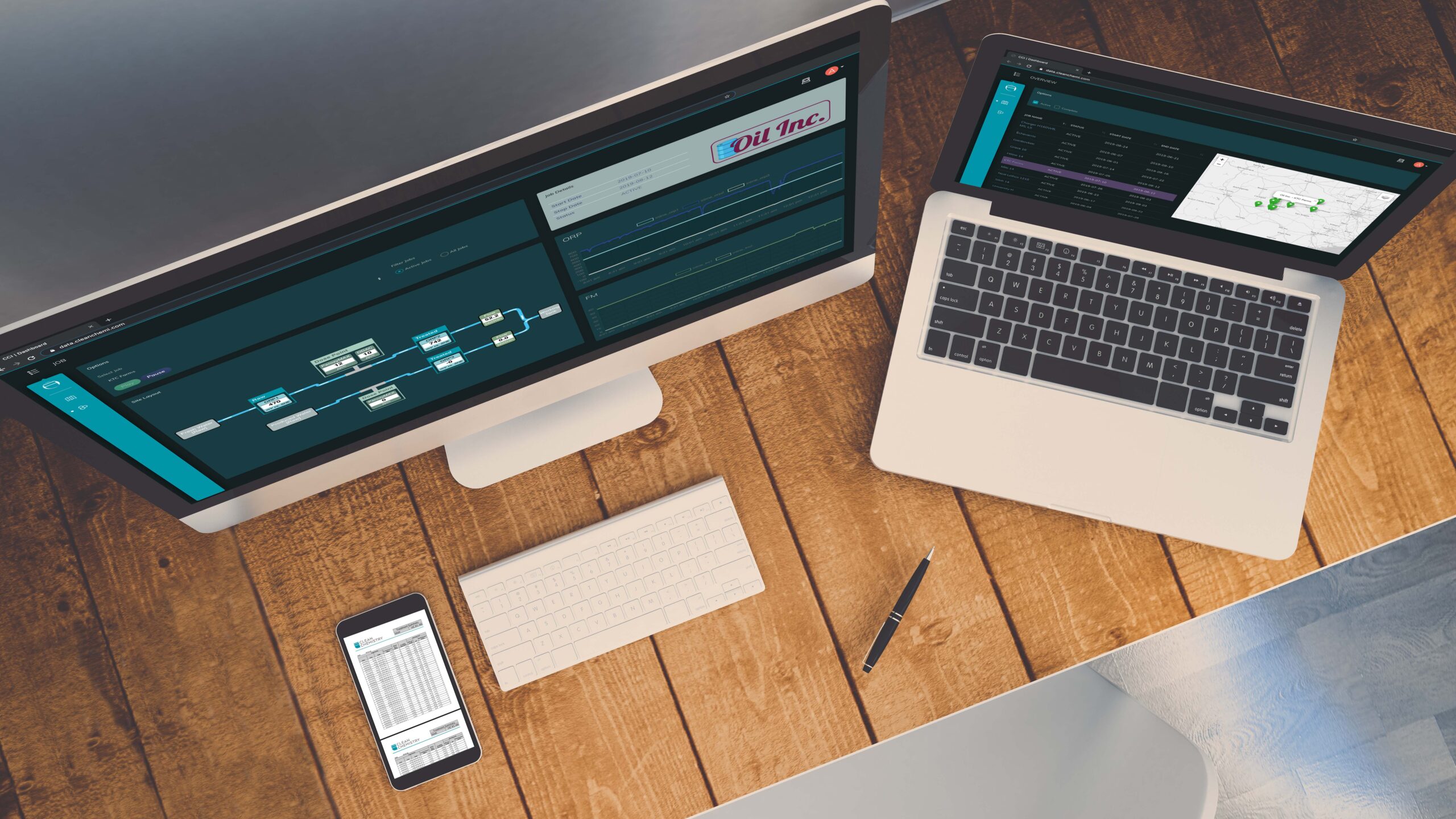 We provide both standard and customizable performance monitoring and data collection programs to all customers. On a typical job, these include online dashboard access (pictured right) that allows for real-time monitoring of dose and ORP. Job summary reports provide a complete overview of the project including volume of water treated and KPIs. Reporting varies by application and can be customized to fit customer requirements.
Looking for something specific?
For additional treatment needs or if a specific chemical, vendor or brand is required, please contact the Clean Chemistry sales team directly at connect@cleanchemi.com